Elastic working with AWS to accelerate results that matter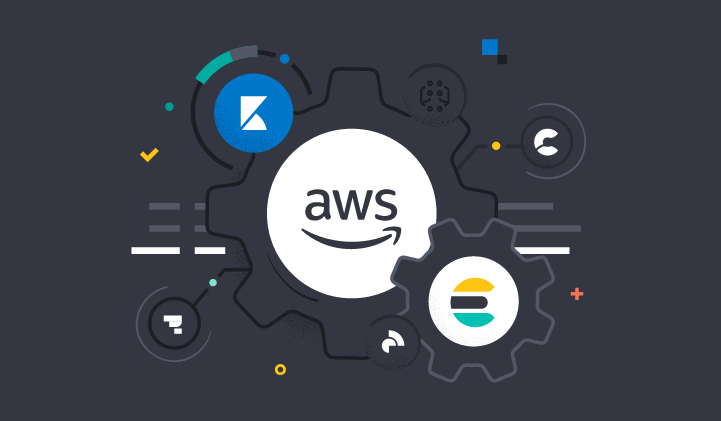 Elastic and Amazon Web Services (AWS) have built upon their work together to make signup of Elastic Cloud on AWS and data ingestion seamless, so you can quickly get the most value out of your data.
We can make it easier for organizations to transform data into actionable insights and stop threats quickly with unified visibility across your environment — so mission-critical applications can keep running smoothly no matter what. From a free trial and fast deployment to sending logs to Elastic securely and frictionlessly — all you need to do is point and click to capture, store, and search data from your AWS services.
Elastic Cloud on AWS
helps you innovate faster with cloud-native features that are continually being enhanced to balance cost and performance —even at scale. In addition, we have worked to provide you with tools and methodologies that help streamline your cloud migration. Let's go through these simple onboarding steps and the solutions that help you accelerate results that matter.
Delivering consistent customer experiences
"I couldn't be prouder of the team in how we implemented Elastic on AWS and provided a better customer experience."
Shmulik Kachlon, CTO, Smarter City Solutions
Working together to help you realize a faster time to value and minimize risks
Over the last year, Elastic solution architects, engineers, product experts, and sales teams have been working with their AWS counterparts to build a foundation to help you search, analyze, and further protect your data across AWS and its services — alongside your on-premises data sets — with Elastic's search-powered solutions. Elastic is constantly working with AWS on additional validated qualifications to help you make better informed decisions and act faster with confidence. See our current list below. We will discuss how to simply and securely ship your data (metrics, logs, and traces) to Elastic next.
Streamline signup and onboarding
It is easy to get started with Elastic through the AWS Marketplace — take advantage of a 7-day free trial and quickly spin up a deployment in minutes on any of the AWS regions listed here from around the world. Our teams are working to deliver an enhanced integration for account creation and setup that saves you time — so you can quickly get the most value out of your data. But first, it is important to understand how Elastic and AWS are working to help make data ingestion seamless while keeping it secure from the start. 
Simplify data ingestion
Elastic and AWS offer integrations that streamline data ingestion across AWS and its services. With many out-of-the-box integrations for AWS services and more under development, you can seamlessly ship AWS logs, metrics, and events into Elastic and quickly deliver results that matter. Many of these integrations just require a few configuration steps to ship data and offer prebuilt dashboards so you can hit the ground running.
Take a look at these blogs and documentation to find more information about Elastic's most recent
AWS integrations
—
AWS Serverless Application Repository (SAR)
,
Amazon S3 Storage Lens
,
AWS FireLens,
AWS Network Firewall
,
AWS Web Application Firewall
,
Amazon Cloudfront
, and
AWS Lambda Extension
— that help you accelerate time to value. Then scroll down to the next section on how you can monitor and analyze your data.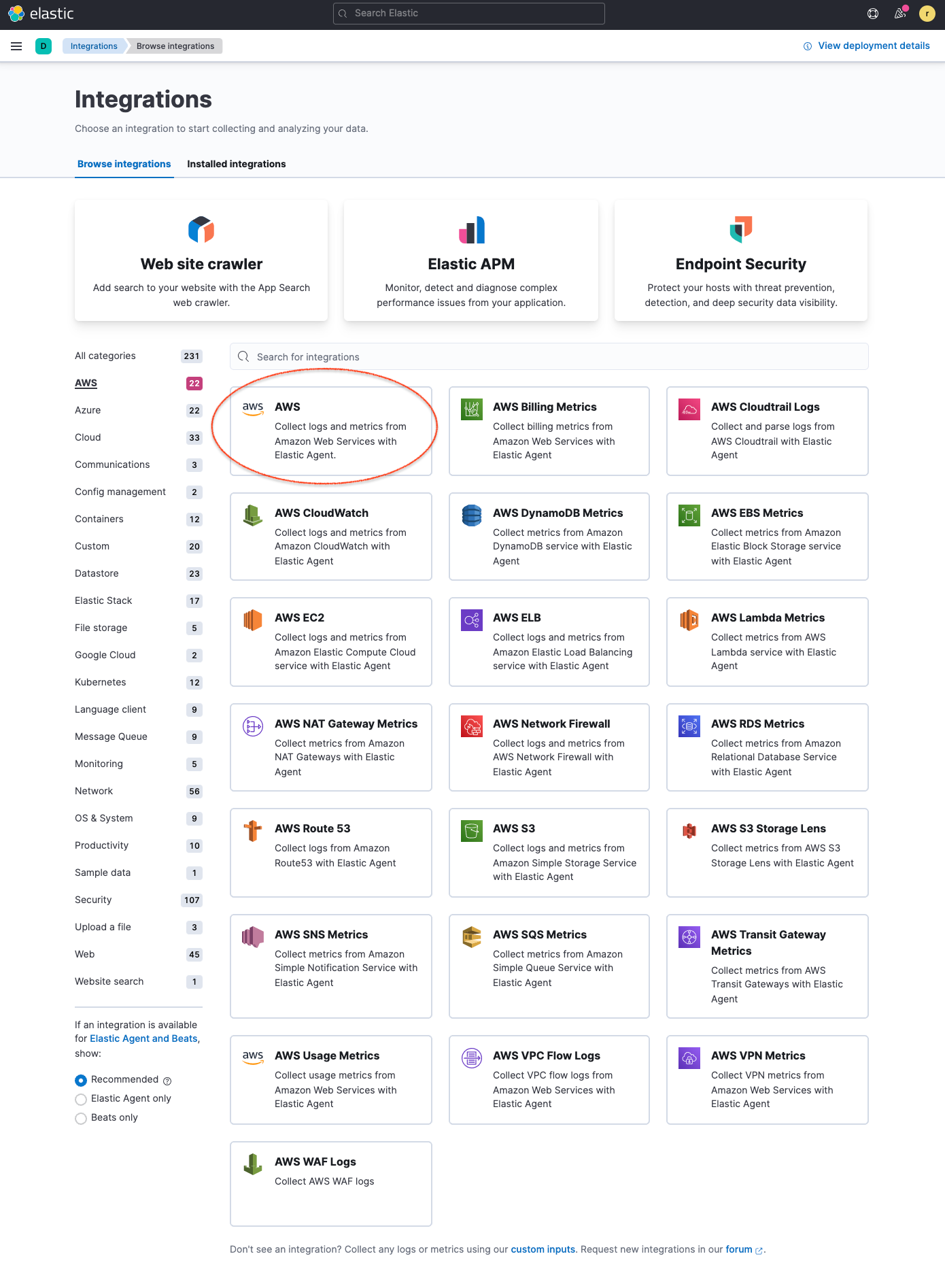 Transform data into actionable insights
Once your data is in Elastic, you can rely on one of the most widely deployed observability platforms available, built on the proven Elastic Stack, to converge silos, optimize application performance, and drive actionable insights. Elastic Observability delivers unified visibility across the entire cloud and on-premises ecosystem so users can monitor and react to events happening anywhere in their environment. Elastic brings logs, metrics, and traces together, at scale in a single stack with machine learning to help detect performance issues in real-time and surface root causes — before they impact your business.
With the Elastic Common Schema (ECS) and single repository architecture, the same observability data from AWS and other data sets can also be used for extended detection and response (XDR) to drive mean time to detection towards zero with Elastic Security.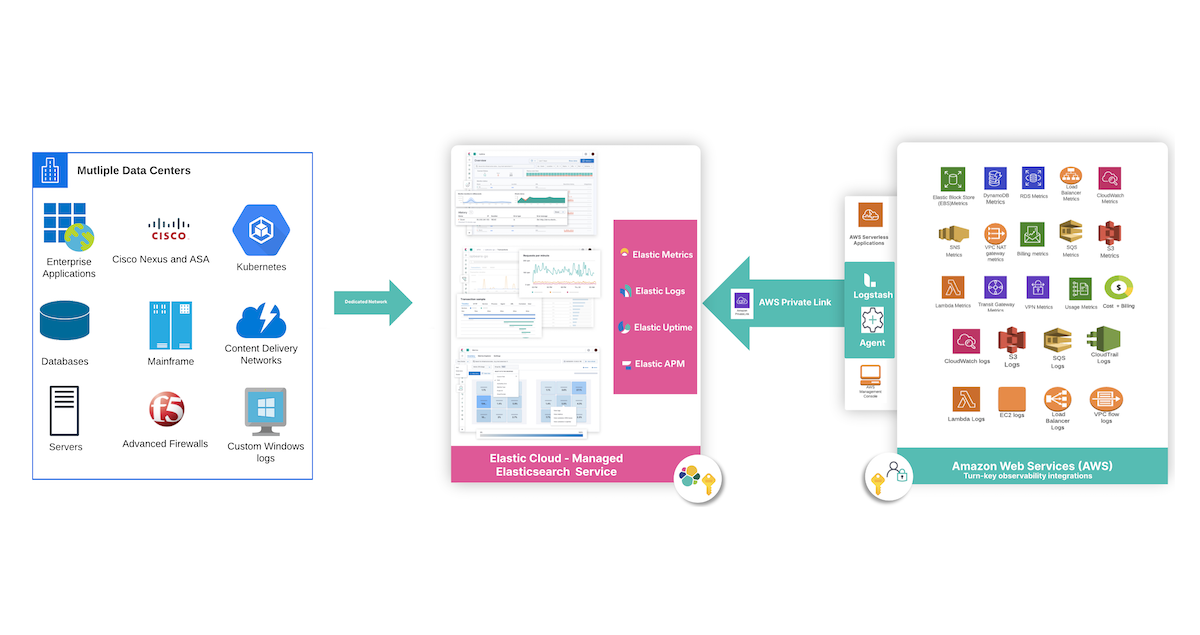 Stop threats quickly 
Elastic Security
brings together SIEM, endpoint security, and cloud security allowing organizations to ingest and retain large volumes of data from diverse sources, store and search data for longer, and augment threat hunting with detections and machine learning. Eliminate data silos, reduce alert fatigue, and ready your organization to stop threats quickly, and at cloud scale, to minimize risk and protect your organization's reputation. Now let's discuss how you can inexpensively retain and manage data to retrieve and search as necessary.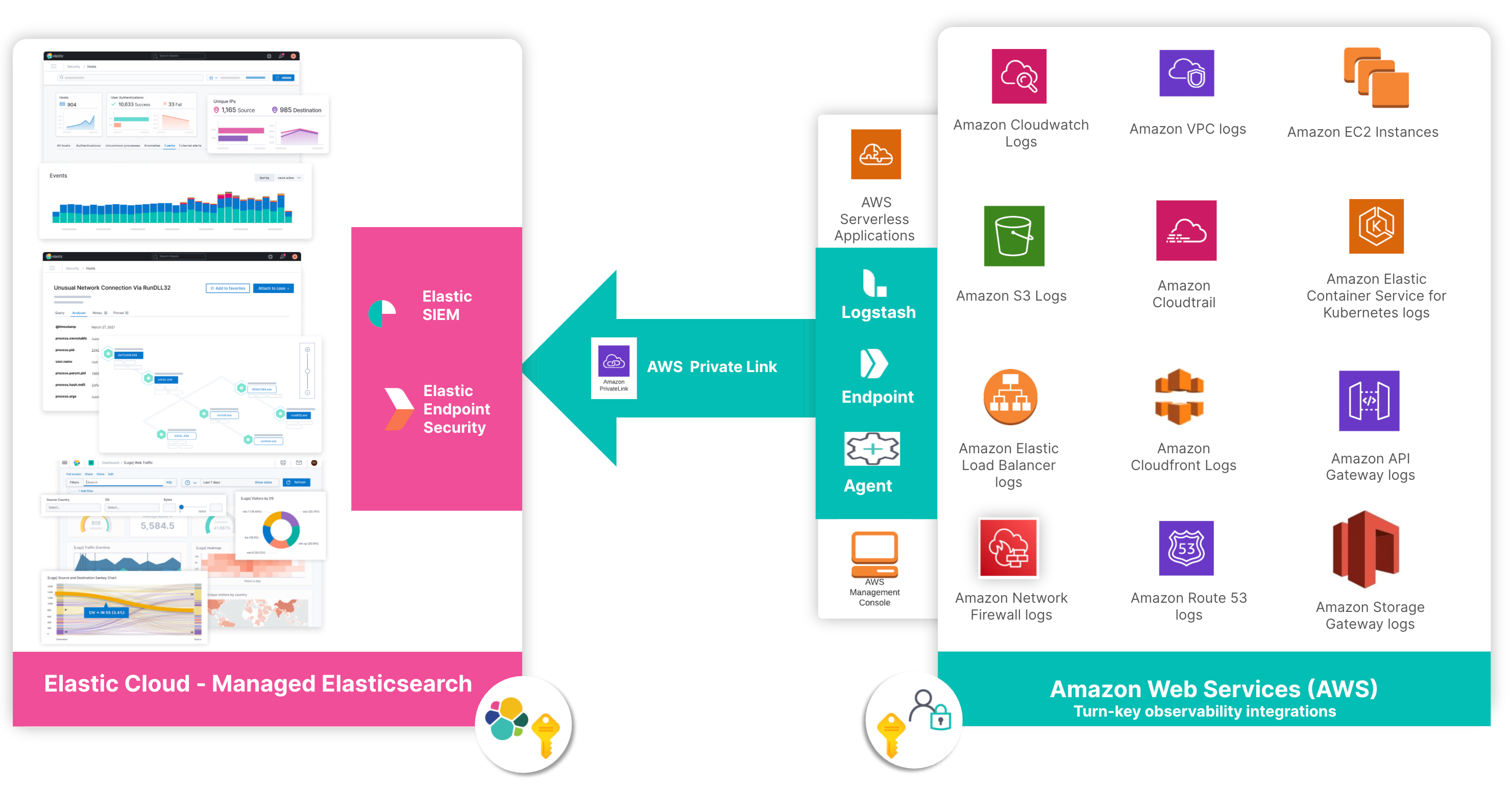 Balance performance and costs — even as you scale
Most organizations retain historical data to better understand patterns and improve their standard of operations, but often are challenged to optimize storage costs while maintaining data accessibility. Elastic added the Elasticsearch frozen tier to allow you to retain large amounts of historical data in low-cost object storage like Amazon Simple Storage Service (Amazon S3) — while keeping it fully active and searchable. This allows organizations to safely keep their AWS and on-premises logs, events, and metrics for usage, analysis, and compliance purposes. Keep data — at any granularity, for any length of time — and then scale as the data grows. 
Data management and tiering is automated through index lifecycle management and autoscaling capabilities, based on your data performance, resilience, and retention requirements. With Elastic, you can automatically scale up or down, and pay only for the resources you use. Take a snapshot of all of your data, then search and visualize it, when and where you need it. 
Further streamline your AWS cloud migration journey 
Most organizations are in various stages of their cloud migration journey and are still migrating workloads to the cloud for many different benefits. In order to migrate to the cloud with confidence, it is essential to have a comprehensive understanding of application and infrastructure resources across AWS and on-premises environments. Elastic delivers cloud visibility at every stage of the cloud migration process. Now that you are aware of these migration resources, let's quickly run through how easy it is to begin with Elastic Cloud on AWS.
Deploy anywhere, worldwide and get started with a free trial in AWS Marketplace today!
Are you ready to transform endless data into endless possibilities with Elastic's search-powered solutions? Get started today with your 7-day free trial by signing up via AWS Marketplace. 
The release and timing of any features or functionality described in this post remain at Elastic's sole discretion. Any features or functionality not currently available may not be delivered on time or at all.