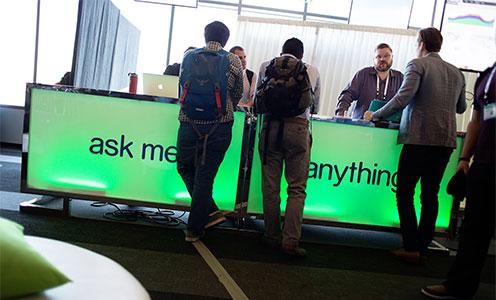 Here at Elastic, the fantastic folks on our Developer Relations team are not so different from the amazing people in our community in terms of background. Some of us have been developers, some have been in ops — and we've all felt the pain of trying to keep track of what's going on with our favorite tools. As open source software users and contributors, we've accumulated quite a few list subscriptions over time, and… well, let's just say we actually celebrate "Mailing List Password Reminder Day" each month with a little bit of a grin. And with so many sources of information coming in — Twitter, forums, blog posts, you name it — filtering out what is useful can be a challenge.
We know the pain. And we want to make that easier for you —- at least when it comes to Elastic-related content. Which is why the Developer Relations team at Elastic is bringing you two new ways to keep in touch with what's going on in the Elastic community: a weekly newsletter, with content curated for our dev audience, and a weekly, live video hangout session with one of the Elastic Developers.
Our goal: to bring you concise, relevant, useful content — deliver it to you in an easily consumable format — and to be authentic and fun in doing so.  (That last part is important — we never want to sound like we're, you know, stuffy or annoying.)
Delivering Awesome

The Developer Newsletter will hit your inbox once a week. Signing up is easy. (And so is unsubscribing — but we know you'll never want to!)
Bonus points: When you sign up for this newsletter, *the newsletter is all you will get.* (Unless you specify otherwise at some other point in time with us, that is!) No added advertisements, calls, announcements, or otherwise.
Double Bonus Points: The Developer Newsletter is your pass, quite literally, to our new Developer Hangouts.
Live Developer Hangouts, Exclusively for Newsletter Subscribers
Every week, we'll be hosting a video hangout with a fabulous guest star from the Elastic engineering team, for approximately half an hourish —-- consisting partially of a mini-presentation from our guest star, a bit of Q & A from the host, and plenty of time at the end reserved for an "Ask Me Anything" session — where you can ask the guest (almost) anything, and get an answer.
Want to participate? Access to the live hangout  is granted exclusively to our newsletter subscribers only — which means that if you have questions, you've got to be on our list. Every week, the developer newsletter will contain all the info you'll need for the hangout — including the guest, the topic, your link to participate, and information about connecting via IRC to ask All The Things!
Of course, though, we want to give you a little taste, just so you know how awesome our hangouts are — and this means that our first hangout won't require newsletter subscription. So be sure to keep your eyes open for information about our first hangout next Friday, June 12, with Aaron Mildenstein. Aaron's one of our many awesome developers working on Logstash, and he'll be talking about how his involvement in open source projects and passion for contributing got him on the track to a full-time job working at Elastic on Logstash. As your first host, I'll be sure to get the scoop on all the things Aaron been working on lately, too.
But after that? Newsletter only. Sorry, folks!
And don't you worry, folks outside of my UTC -7 time zone: we recognize that Elastic has a community that stretches far beyond the west coast of the United States. We'll be rotating the days and times of day in which we hang — so everyone gets an opportunity to attend.

So what are you waiting for? Get signed up for our newsletter today — and get your full-fledged, "first edition" newsletter starting next week.