Product release
What's new in Elastic Cloud for 7.12: Store more data with the frozen tier, scale your deployment, and leverage new infrastructure
We are excited to announce a number of features — including the upcoming frozen tier and the general availability of autoscaling — that contribute to making Elastic Cloud (our Elasticsearch managed service) the best way to consume all that Elastic has to offer. Keep reading to learn more.
Coming soon: Technical preview of the new frozen tier
We are excited to announce the upcoming release of the frozen data tier, which will be available in the Enterprise tier of Elastic Cloud. The new tier allows you to store massive amounts of data at dramatically lower costs while maintaining the ability to run search queries against that data. Powered by searchable snapshots, the frozen tier leverages cost-effective object storage including Amazon S3, Google Cloud Storage, and Microsoft Azure Blob Storage and is designed to be so cost effective you'll never need to delete data. Save it all, and search it when you need to.
Autoscaling is now generally available
Autoscaling is now generally available on Elastic Cloud and Elastic Cloud Enterprise 2.9. You can also take advantage of autoscaling, available in technical preview, in Elastic Cloud on Kubernetes 1.5. Autoscaling monitors the storage utilization of your Elasticsearch data nodes as well as the memory consumption of your machine learning jobs and automatically adjusts resource capacity.
You can enable autoscaling for Elastic Cloud and Elastic Cloud Enterprise using the API, CLI, or from the Elastic Cloud console. You can enable autoscaling for Elastic Cloud on Kubernetes by defining an autoscaling policy.
You can also set thresholds to prevent runaway cluster growth. Your Elasticsearch data nodes' capacity will automatically grow for each data tier as you ingest more data or retain it for longer. In addition, your machine learning nodes' memory will scale up or down based on the memory requirements of your machine learning jobs.
Be sure to read our latest blog to learn more.
Improved performance and lower costs with new instance types on Elastic Cloud
New infrastructure enhancements are now available for Elastic Cloud on both Amazon Web Services (AWS) and Microsoft Azure.
On AWS you can take advantage of D3 instances in the EU (Ireland), US East (N. Virginia), US East (Ohio), and US West (Oregon) regions. D3 instances provide high-capacity local storage for dense storage workloads and are designed to deliver additional performance at a lower cost compared to D2 instances.
On Azure you can benefit from Ls-Series virtual machine instances in the Microsoft Azure UK South (London) and Japan East (Tokyo) regions. Ls-Series I/O optimized instances feature high throughput and low latency. These instances also deliver cost savings of more than 55% compared to the previous E-Series virtual machine instances. Your deployments will benefit from higher performance and lower costs. To get started, log in to the Elastic Cloud console and create a deployment in one of these regions.
Replicate and search across different Elastic Cloud Enterprise environments
Cross-cluster replication and cross-cluster search are now available on Elastic Cloud Enterprise 2.9, following the release of these features on Elastic Cloud. Whether you have a single cluster or a globally distributed collection of clusters, you can use cross-cluster replication and search across deployments hosted in any of your installations.
Cross-cluster replication allows you to store a copy of your data on one or more other clusters. Even if an entire environment goes down, you can continue handling search requests using a copy of your data residing in a cluster located in another environment. You can also reduce search latency by storing a copy of data in clusters that are more closely geolocated to search users.
Cross-cluster search gives you the ability to seek out data across any number of clusters you choose, regardless of their physical location or whether they are hosted in another environment. This unified search capability helps break down data silos so you can derive greater insights by visualizing search results from multiple clusters in a single coherent view.
Enhanced support SLA, more features, and more options for AWS Marketplace users
The Elastic Cloud (Elasticsearch managed service) AWS Marketplace subscription is introducing a number of enhancements that make managing your subscription easier. Now, when you purchase a monthly subscription from within the AWS Marketplace, you get instant access to Platinum features such as Elastic APM, App Search, and Workplace Search. Additionally, you can get access to enhanced support service-level agreements. You can also change your subscription level directly in the console.
Check out the latest blog to learn more.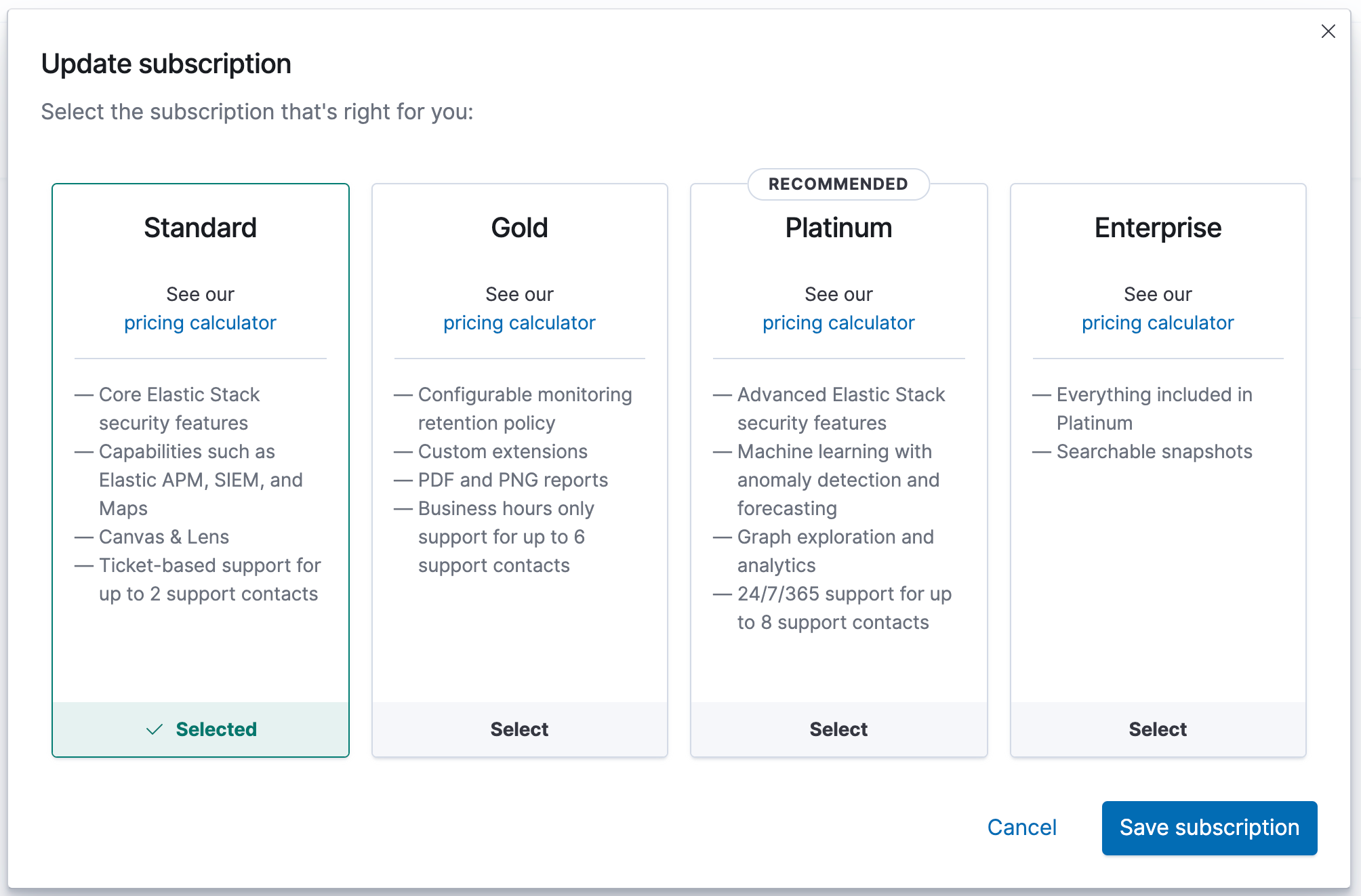 Human-friendly deployment endpoints
Now you can customize your deployment endpoints on Elastic Cloud. Custom endpoint aliases allow you to replace the system-generated ID for your deployments with a customized human-readable string. These custom aliases then become part of the endpoint URLs of your deployments for Elasticsearch, Kibana, APM server, and more. Aliases make it easy to read and share endpoints. This also allows you to migrate deployment endpoints without having to edit code or configurations that access it and reuse a previous alias with a new deployment.
Get started today
Log in to the Elastic Cloud console to get started, or sign up for a free 14-day trial and check out our blog for a step-by-step guide on how to try it out.
The release and timing of any features or functionality described in this document remain at Elastic's sole discretion. Any features or functionality not currently available may not be delivered on time or at all.