We're excited to announce that Zendesk is now available as a pre-built content source, along with a host of others, as part of the Workplace Search application.  
With more than 130,000 customers in 30 countries, Zendesk has become one of the de facto customer service platforms in the world. Each day, millions of users interact with support agents via the cloud-based tool regardless of the support channel they choose.
Effortless searching for support — and beyond
Customer support experiences have increasingly shifted away from traditional voice-based channels. This need for a digital-first customer service platform — one that captures text-based communications in the form of emails, chats, and online support tickets — has helped accelerate the adoption of the Zendesk platform.  
Text-based support has thrived due to the asynchronous nature of how we do work and solve customer problems. And for customers of Zendesk, this provides a rich paper trail of support cases, agent notes, and accepted solutions that others within the organization can leverage to do their jobs better.
But not everyone is a Zendesk expert schooled in the nature of locating support tickets and case notes. This can lead to wasted time and effort trying to track down content across multiple data sources, resulting in lost productivity and more employee frustration. That's why Elastic Workplace Search is the perfect complement to organizations using Zendesk — along with other sources like Google Drive, GitHub, and Sharepoint Online — to easily discover content to help solve future cases.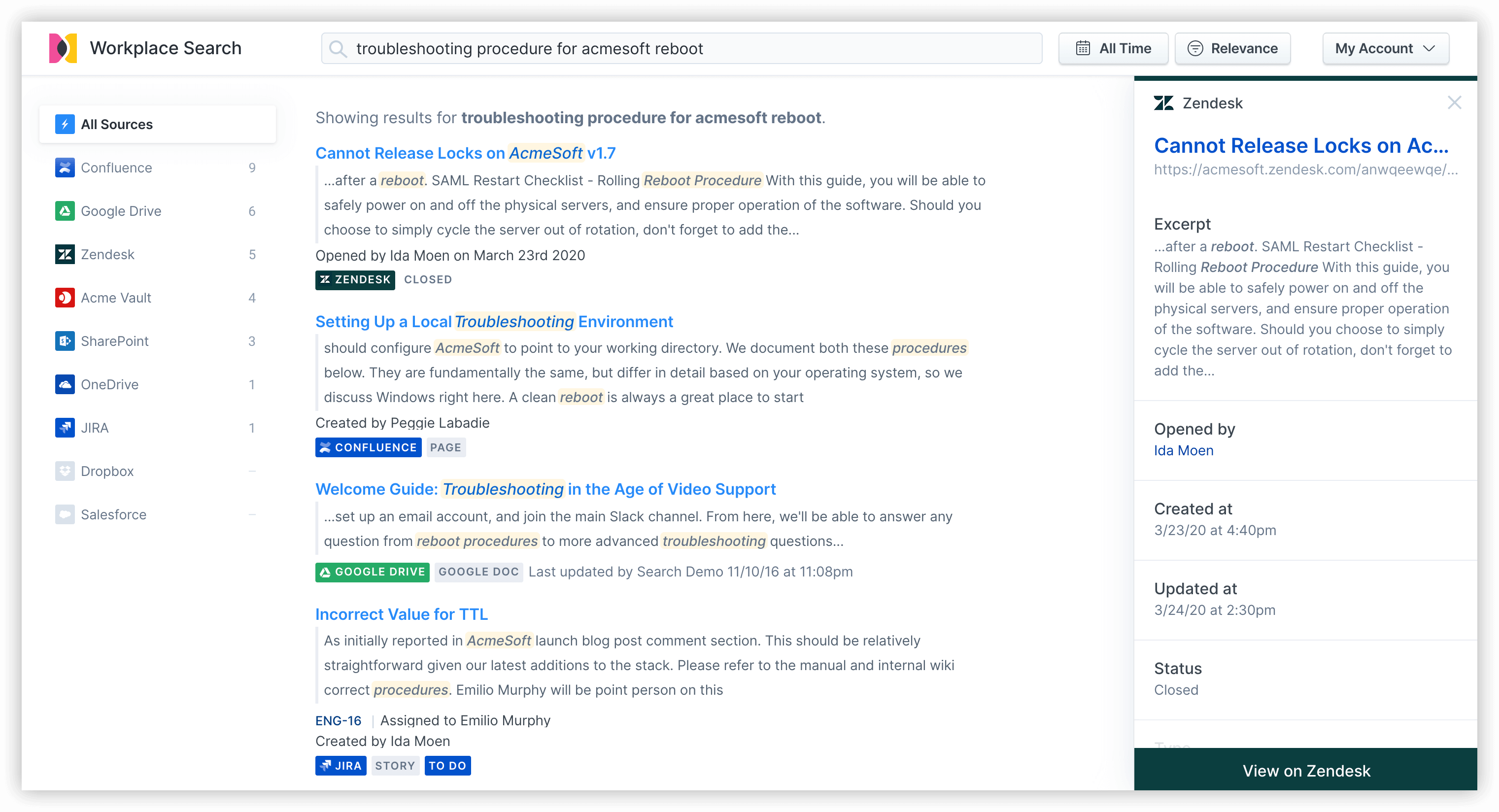 Workplace Search can integrate with a host of other data platforms from every corner of the organization. So agents (and other team members) are able to pull from a wealth of knowledge scattered across your day-to-day support tools (such as Zendesk), your process platforms (such as Confluence), developer collaboration tools (such as GitHub), and your systems of record (such as Google Drive and Sharepoint Online). 
Workplace Search was specifically designed to bring together all of your organization's content sources and places where knowledge lives and make it easily searchable in one place, in a way that's intuitive for users, no matter where they are. By searching over all of your content, whether that's in Zendesk or Jira (or both!), your team can find what they need without having to know where it lives — saving time and frustration.  
And since Workplace Search is built on top of Elasticsearch, you can be confident each search experience is fast and relevant, and that it scales as usage grows.
Solve once, help many
Knowledge sharing is a hallmark of successful support organizations — and this goes beyond sharing knowledge across just the support team. True knowledge sharing happens when support tickets, cases, and most importantly, solved cases, are woven throughout the entire company's network of knowledge workers. 
This means when a case is solved, everyone inside the company benefits — not just support — by seeing the case notes, case history, and steps to resolution. Not only does this help improve your products and services, but it empowers teams with the resources they need to improve their jobs. That's why making content sources like Zendesk searchable delivers learnings that extend way beyond support — making for better-informed and skilled teams.
Connect with a click
Content sources like Zendesk are a breeze to connect to the Workplace Search management dashboard. Simply click the Sources icon and within minutes, you'll be indexing Zendesk content into a single, unified search experience for whoever needs it within your organization.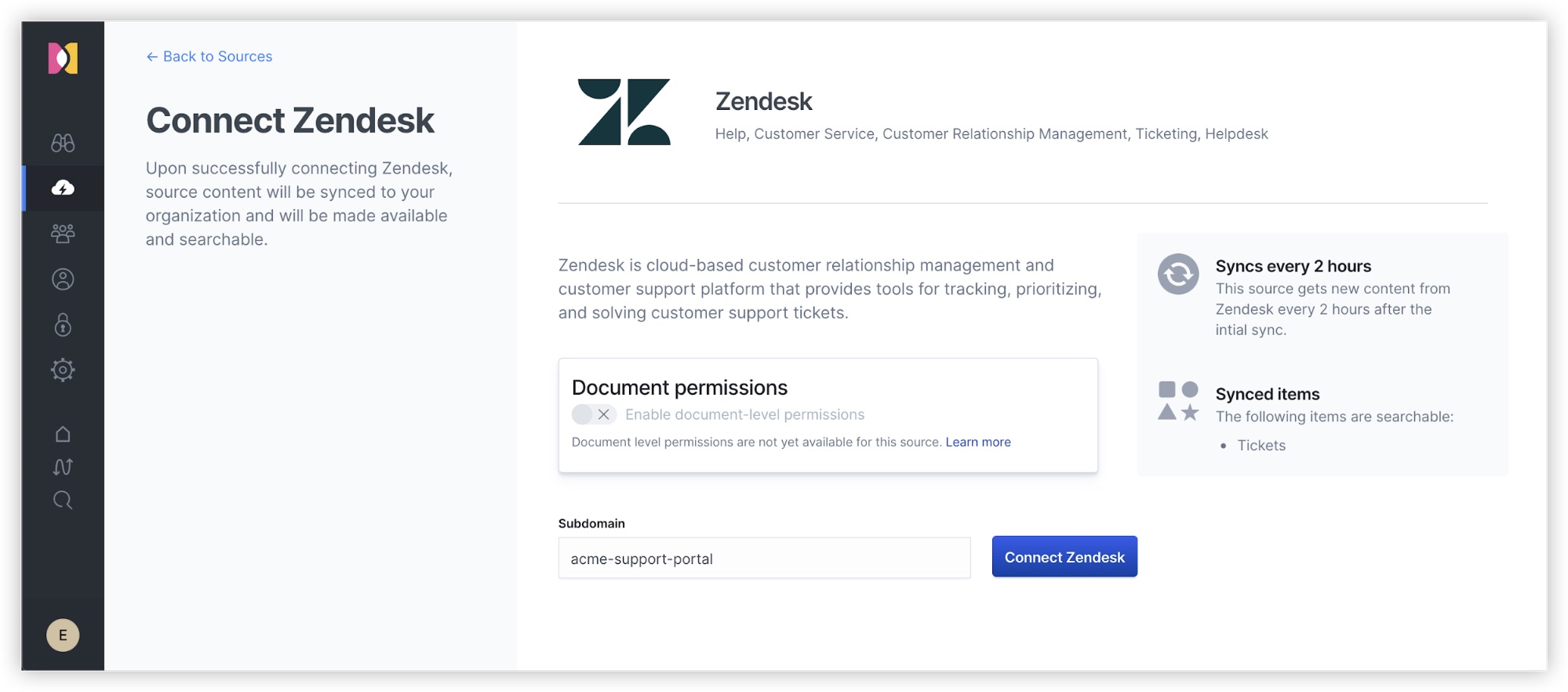 Zen and the art of customizations
It's also just as easy to customize the relevance of the different content sources for different groups and roles. This source prioritization means all of your users — from support agents to product developers — will be seeing the most relevant information from Zendesk and all related platforms so that they can become even more efficient.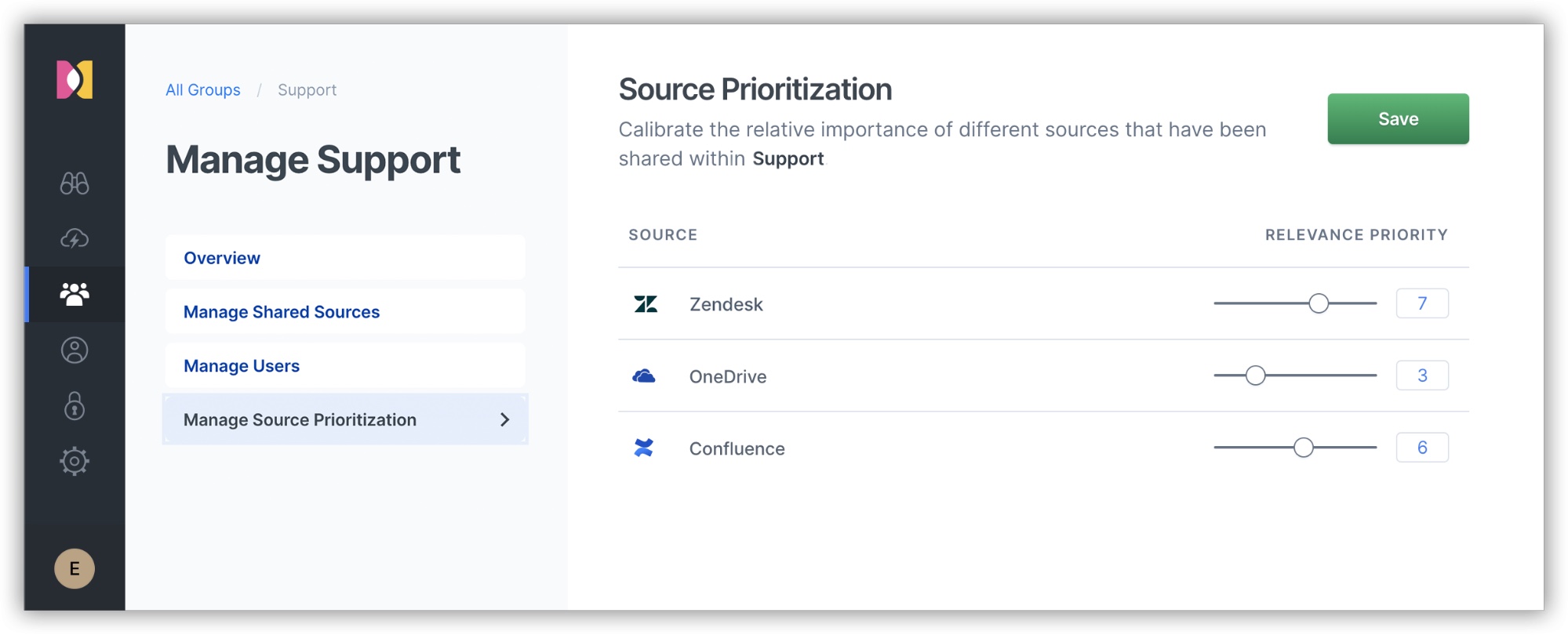 Once connected, you can begin customizing your relevance settings with (you guessed it) a simple click of the mouse. Sliders give you easy access to the prioritization of sources. And once you set up different user groups, those groups' relevance priorities can be unique.
So maybe your support engineers need to see more content from Jira and Zendesk, while settings for the Sales department weigh in favor of Google Drive and Sharepoint. 
The Workplace Search out-of-the-box connector for Zendesk automatically captures, syncs, and indexes the following items:
Tickets: ID, ticket content, tags, status, priority, user data, and timestamps
This is available for the following Zendesk product levels: Support, Support Suite, and Custom-Built.
Get started today
To get going,
start a free trial by downloading Workplace Search
, and then
check out our step-by-step guide for connecting Zendesk.