News
Beta Release of Elastic Cloud on Google Cloud Platform (GCP), More Options to Host Elasticsearch
True to our promise of bringing Elastic Cloud to wherever our users are, we've expanded your options for hosting and managing Elasticsearch and Kibana with Elastic Cloud. In April, we announced our partnership with Google Cloud to deliver Elastic Cloud on Google Cloud Platform (GCP). Today, you can officially see, taste, touch, and experience it via a beta release. 

Existing Elastic Cloud customers can get going with this new offering in just a few clicks via the console, while new users are welcome to give our hosted Elasticsearch on GCP service a whirl with a free trial.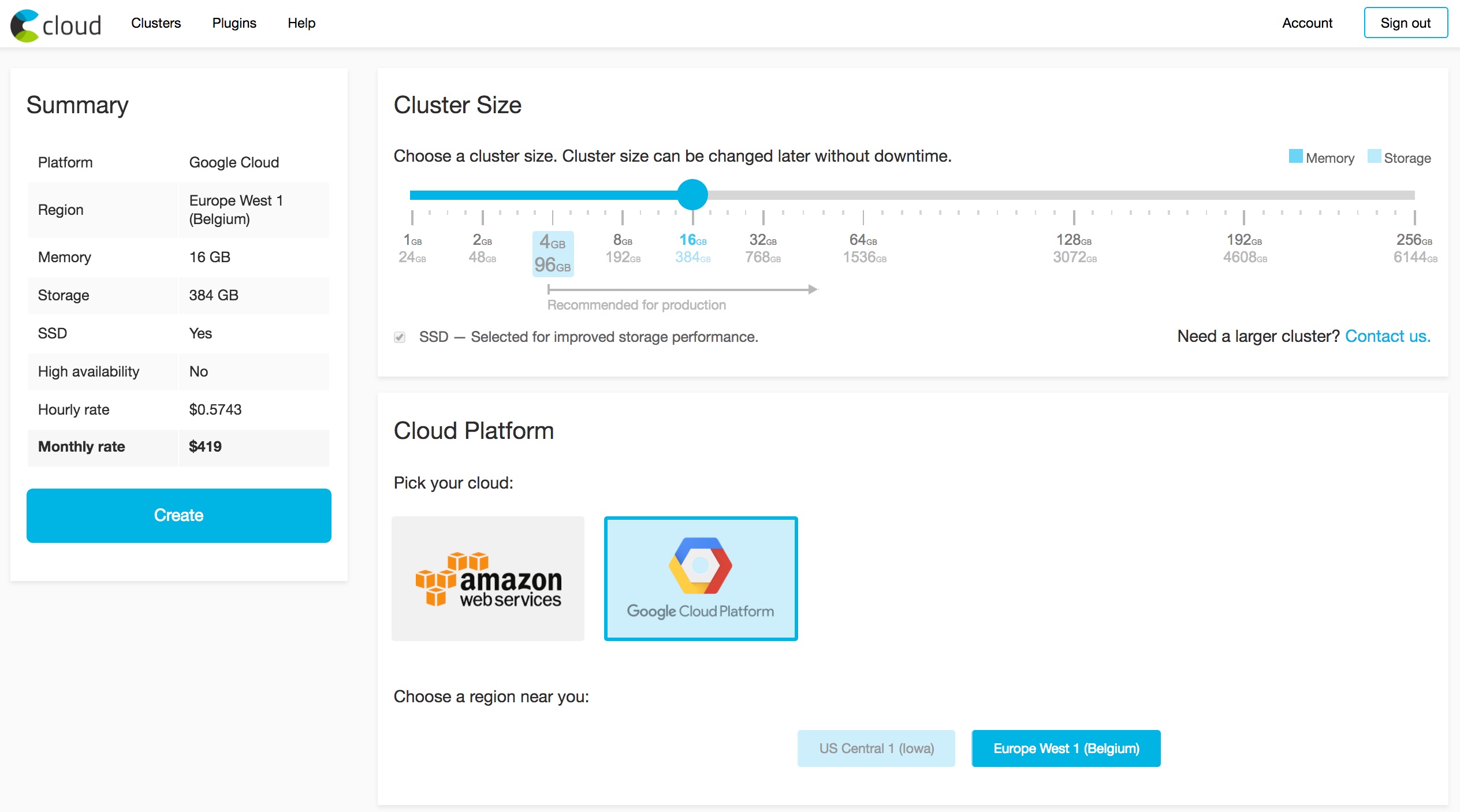 Initially, Elastic Cloud was only available on Amazon Web Service (AWS). But it was always our intention to offer our service through more cloud providers like GCP. Doing so brings the Elastic products closer to your applications living on GCP, giving you the flexibility to run your projects and business the way you choose.
There were other contributing factors for this expansion, too. GCP is one of the most innovative and open source friendly cloud platforms available today (here's what online study site Quizlet has to say about it). Plus, we've seen a growing demand from our community
Like our offering on AWS, Elastic Cloud on GCP provides access to the latest versions of our open source software, X‑Pack features, and Elastic's support and consulting services. Upgrading, scaling, and extending your deployment on GCP and AWS can all be done from the same UI in Elastic Cloud.
The Elastic Stack (previously known as the ELK Stack) consists of Elasticsearch, Kibana, Beats, and Logstash. X‑Pack unlocks powerful features such as security, alerting, and monitoring to extend the Elastic Stack. Together, Elastic products solve use cases encompassing search, logging, metrics, and analytics for companies around the globe.
We hope you enjoy this beta release. Your feedback is welcome. Reach out to us by submitting a ticket through the Elastic Cloud customer support portal or email us. We're excited to take another step toward giving you the offerings you need to make your projects successful.
Want more details? Read on.
A Few Frequently Asked Questions
What is the difference between beta and GA?
In general, the functionality is very much the same as what Elastic Cloud provides today on the existing non-GCP infrastructure. That said, there are two main differences between the beta and the GA version:
Subscription level: During the beta period, only monthly standard subscriptions are available for users. Annual plans, including standard annual, gold and platinum will be made available for GA.
Elastic will not provide SLA commitments during the beta period, and the service may fail, become unavailable and may take a longer time to bring online since it's fairly new. But rest assured that Elastic will be using the same operational procedures and practices as it does for Elastic Cloud on the other existing infrastructure
What are the support terms during the beta?
Elastic will provide support using the same cloud standard support policy. However, during beta, our service may experience outages and issues and therefore we don't recommend to put production-critical workloads on it until it goes GA.
When will GA be available?
We aim to make the GA available towards the end of the calendar year 2017.
When this offering is available in GA, will I need to re-create my clusters?
No, you will be able to keep using the same clusters you created during the beta period.
Can I use my existing Elastic Cloud account to create clusters in GCP?
Yes. All existing Elastic Cloud users are able to create clusters on GCP from the same user console.
What is the pricing of Elastic Cloud on GCP?
You can check the pricing on the Elastic Cloud pricing page.
I have more questions, who can I contact?
Please reach out us via email. Or, if you are a registered user you can also contact us through Elastic Cloud customer support portal.
I'm new to Elastic Cloud. Why do I have to choose between the AWS and the GCP cloud platforms? Are you not the service provider?
Location matters. If you're running your application on GCP, you want you data close to it, both for performance and cost reasons. Having your Elasticsearch cluster residing on the same GCP region means that you have the lowest possible latency to it, and that you're not paying outbound traffic costs that you would have been paying if it was located somewhere outside of GCP.