Better search doubles advertising revenue
Elastic Site Search resulted in a doubling of advertising revenue by attracting new advertisers that had previously avoided the site due to limited search functionality.
Elastic Site Search opens door to new content discovery
Modern search enabled Asian Food Network to expand beyond recipes and offer more articles, news, trivia, and video content to capture more readers and advertisers.
Average time on site increases 144%
Elastic Site Search's advanced search algorithm with phrase matching, spelling correction, stemming, and bigram matching means time spent on the Asian Food Network site is now 144% higher for search users.
Company Overview
Asian Food Network, formerly known as Asian Food Channel, offers a Southeast Asian cable television channel that is owned by Discovery. Launched in 2005, the Singapore-based network provides a mix of programming content about food and travel. The network's website is a destination for all Asian food lovers globally, and provides a window into Asian culture through food and trends. The Asian Food Network's counterpart in the United States is Discovery's Food Network.
Exceeding expectations with Elastic Site Search
The network's website lacked modern search capabilities, making it hard to attract advertisers and readers. This led to difficulties in funding and producing new and innovative content at the Asian Food Network. In addition, the website was difficult to maintain, slow, and presented internal and external technical challenges.
Elastic Site Search was the only technology that could resolve all of these issues, and it aligned with the network's expedited time-to-market strategy. The network was also excited about Elastic's unique ability to easily integrate with legacy solutions. And unlike many of its competitors, Elastic maintains local support staff in Singapore, and they were there ready to help with the migration.
The network also embraced Elastic Site Search because of its high level of customizability — and because it is not dependent on the global Google search index, HTML tags now allow Asian Food Network to tell the Elastic Site Search crawler how to index the site. This is a critical feature that gives executives, advertisers, and content creators confidence that new content won't end up hidden away from readers.
Beyond the initial crawl of the website by Elastic Site Search, the product's page-ranking feature provides relevant search results for pages the network wants to highlight.
The entire transition to Elastic Site Search took just three months, and the results exceeded all expectations, says Anna Pak, General Manager for Discovery Southeast Asia.
Following our smooth migration to Elastic Site Search, our new website gained additional search functionalities, looked really attractive and, as a consequence, our traffic has increased dramatically. We're now confident that when we offer new content choices and features, visitors will find it as we continue to scale with Elastic Site Search.
– Anna Pak, General Manager of Discovery Networks Asia-Pacific
What's more, Elastic Site Search, with built-in analytics, provides Asian Food Network's staff and executives deep insights into what users are searching for, and enables search changes based on those analytics — specifically, the ability to reorder search results into any desired sequence, for any query desired.
Enhanced consumer experience
When running a website for such a populous and diverse region, it's important that Elastic Site Search's advanced search algorithm takes synonym correction, phrase matching, spelling correction, stemming, and bigram matching into consideration. The Elastic Site Search dashboard is where all of these, and other features, can be fine tuned.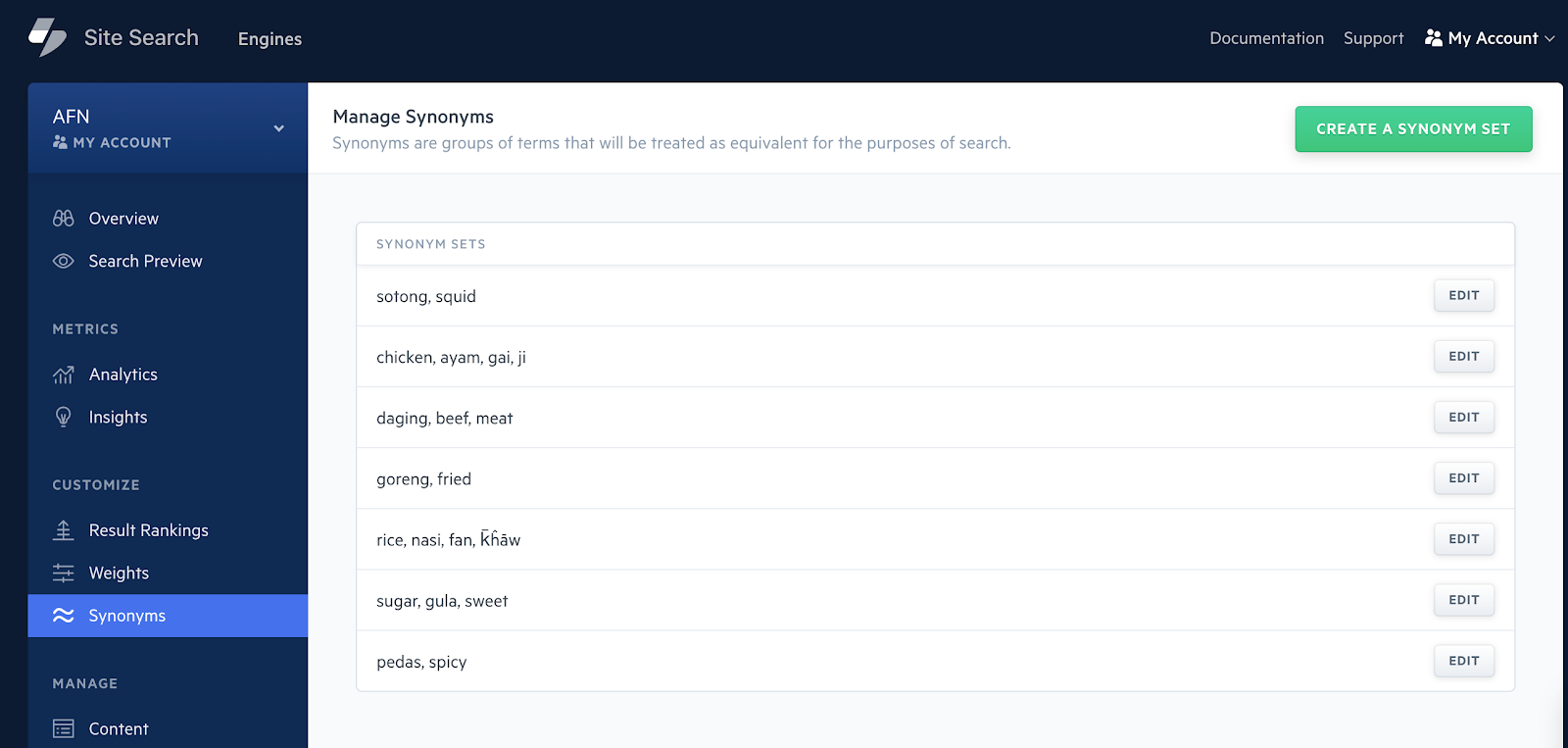 The language-specific search relevancy delivered by Elastic Site Search is particularly important for the user experience in an area with varying cultures and languages, meaning that the Asian Food Network site can easily be localized and fine-tuned for a host of languages beyond English, including Malaysian and Indonesian.

Before we adopted Elastic Site Search, we never would have considered having localized content or versions of the Asian Food Network website. With our previous solution, there were too many technical challenges. Elastic Site Search has ended those technical challenges, and the only challenge now is localizing content.
– Abhineet Yadav, Product Manager of the Direct to Consumer Team, Discovery Networks Asia-Pacific
Because food is visual, the team uses Elastic Site Search to display pictures of food in search results. The 70% increase in the number of searches per month indicates customer satisfaction has been on the rise, Yadav says. Internal stakeholders are also impressed with the new visual search features.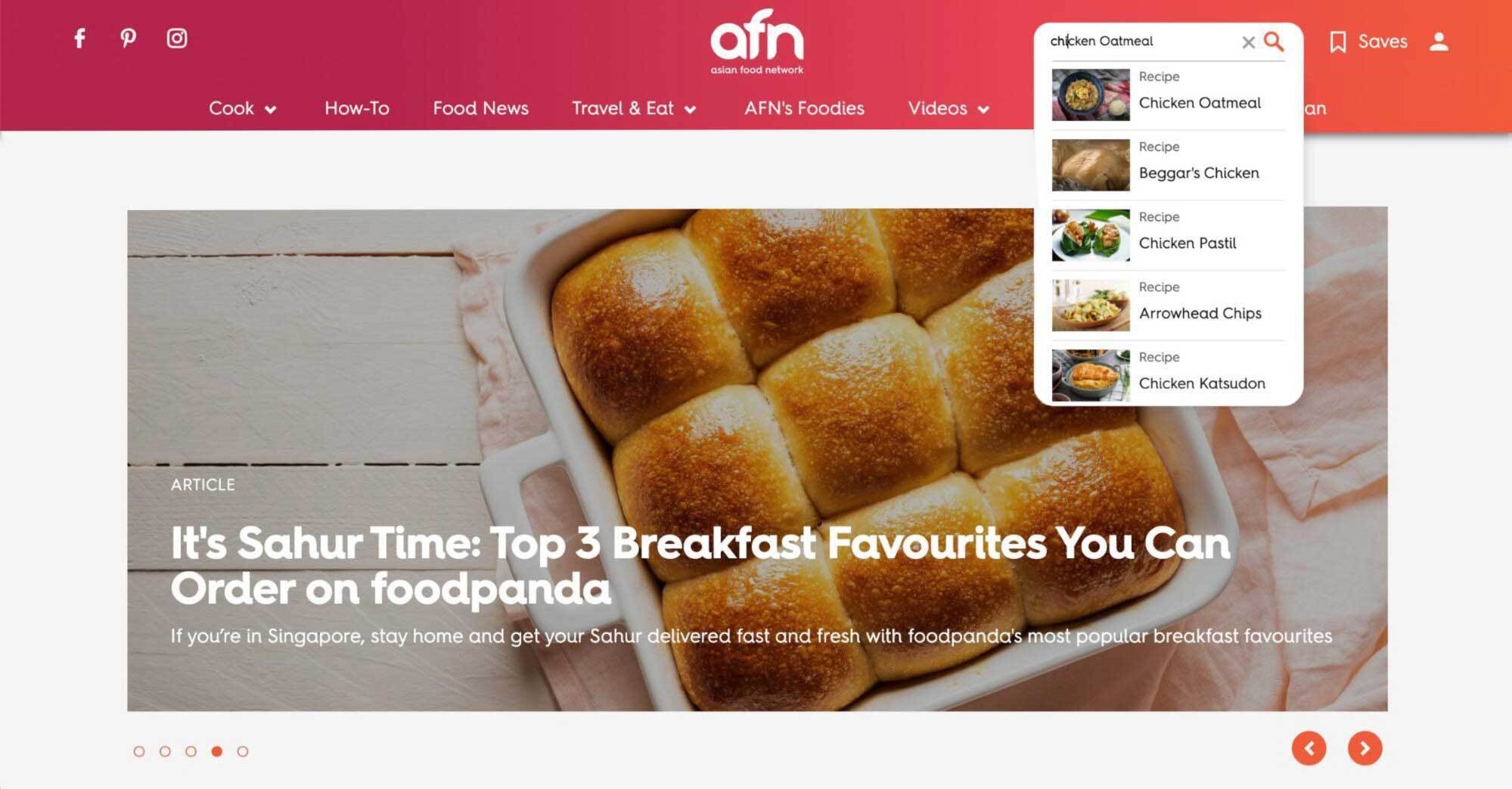 Return on investment
The ROI metrics are strong:
4X increase in monthly active users
4X more website content searches
100% increase in advertising revenue
144% increase in time on site for search users
There's no way to put a number on a metric when it comes to measuring morale. But Yadav says the tech team's morale, and productivity, has increased following the adoption of Elastic Site Search.

"They are spending less time fixing search issues and more time building features," Yadav says. "That's definitely a win. The team is very happy and there's less stress."
Elastic is a key ingredient in the network's roadmap
Yadav's team is adding more synonyms into the Elastic Site Search dashboard to deal with varying languages and cultures of its readership. For example, when the Indonesian term "ayam" is typed into the search field, content associated with "chicken" will render for those that speak Indonesian.

The Elastic Site Search dashboard, Yadav noted, is so easy to use that a large swath of the network's non-technical staff can help tweak search results or do other search alterations. This includes adding in subtle recommendations for search results that don't precisely match what a visitor searched for but may nevertheless be relevant, as well as tweaking the site to match the needs of readers, advertisers, and content creators at scale.

Elastic Site Search took all the pain away in transforming our site to one that is first in its class. Elastic Site Search helped us make sure the project would be delivered on time, adapt to our future needs, and we gained a lot of trust with stakeholders inside and outside of the Discovery organization.
– Abhineet Yadav, Product Manager of the Direct to Consumer Team, Discovery Networks Asia-Pacific