AWS Elasticsearch Service Comparison: Amazon and Elastic
When it comes to hosted Elasticsearch Service on AWS, not all offerings are created equal. There's the fully loaded one from us, Elastic, the company behind Elasticsearch, Kibana, Beats, and Logstash. And there are others like Amazon Elasticsearch Service. Are they the same? Nope.
There are differences in features, flexibility, support, and deployment options. The Elasticsearch Service from Elastic and the offering from Amazon are not the same. We'll explain why.
Don't need further clarification? Lovely. Try it out. 14 days. No credit card required.
New
We've made it easier to deploy a hot-warm architecture for logging use cases with index curation. 
Read More
The Feature Gap: We Give You the Capability
From Elasticsearch SQL to Kibana spaces, our entire focus is on building products and features that our users care about. Users notice our Elasticsearch Service on AWS has many features that Amazon does not and cannot provide.
And the gap for these features will continue to widen — noticeably. This is just a sampling of features our Elasticsearch Service on AWS gives you that Amazon's doesn't. View the full list below.
TLS encryption, encryption at rest, role-based access control (RBAC), and field- and document-level security. It's all there.
Infrastructure & Logs UIs
(Free) Curated experiences for tailing log files and monitoring infra like containers, pods, and services.
Hot-Warm & Index Curation
(Free) Define how long indices are kept on hot data nodes before automatically moving to warm nodes.
(Free) Save on space (and costs) by summarizing data into coarser time buckets as it ages for metrics use cases.
(Free) Feel more comfortable with SQL? No problem. Use the syntax you're familiar with to query Elasticsearch.
The Operations Gap: We Give You the Flexibility
Our Elasticsearch Service on Elastic Cloud is the only offering that allows users to deploy custom topologies for solving different use cases. This includes hot-warm architecture with index curation for logging and time series projects, and other templates optimized for I/O, compute, and memory.
All a user has to do is simply click and drag on a slider bar and all the cluster provisioning and optimized hardware-matching magic unfolds behind the scenes. (Watch this five-minute video.)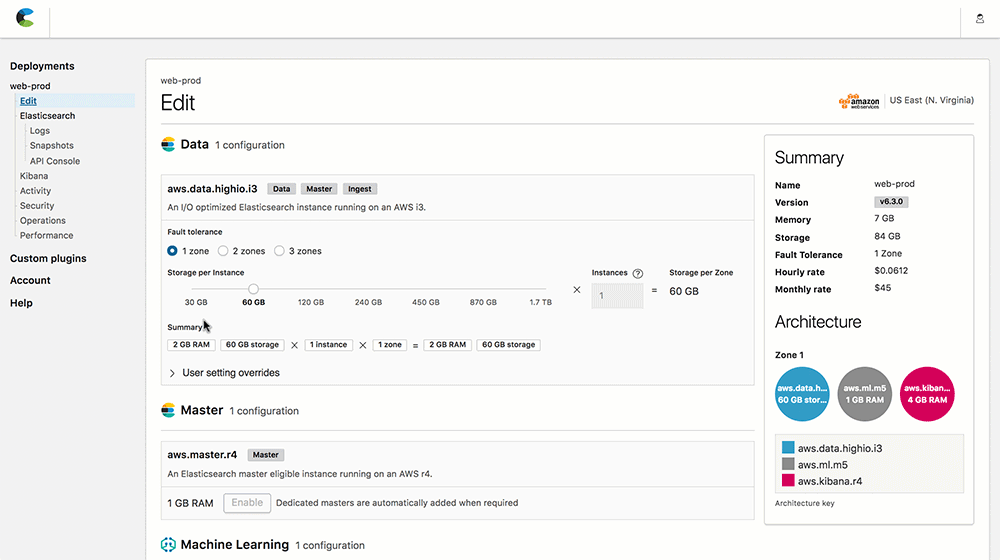 The Knowledge Gap: We've Got the Experts
There is no compression algorithm for experience or expertise. We are the creators and maintainers of Elasticsearch, Kibana, Beats, and Logstash and we've been running our hosted Elasticsearch Service (previously known as Found) since 2012.
Amazon introduced their AWS Elasticsearch Service offering in 2015. Amazon, of course, has been offering services via AWS since 2006, but in the context of managing and supporting hosted Elasticsearch, our team has a few years head start.
No one knows the Elastic Stack better than we do. And no one hosts and manages it better than we do.
The Deployment Gap: We Give You Options
We strive to be where our users are — or might want to be. If that's AWS, we're there. If that's Google Cloud Platform (GCP), Alibaba, or Azure, we're there, too.
If you want to migrate self-managed workloads to a public cloud, we've made that possible. Or if you want to take our Elastic Cloud and run it on prem or in a hybrid environment, check out ECE.
And if you'd like to operationalize or scale a search project, Elastic Cloud is our family of SaaS offerings which also includes our Site Search Service and App Search Service.
None of these options are available through Amazon Elasticsearch Service.
There Can Is Only Be One
And we are it. Try it out for free for 14 days. No credit card required.
Launch Free Trial
AWS Elasticsearch Service: Amazon vs. Elastic
This table is updated periodically. It was last updated on April 9, 2019.
Amazon Elasticsearch Service
Elasticsearch Service on Elastic Cloud
Elastic Stack Features
Some
All
Features formerly known as X‑Pack
No
Yes
Security, Alerting, Monitoring, Graph, Reporting, Machine Learning
Canvas
No
Yes (Canvas docs)
Kibana Spaces
No
Yes (Spaces docs)
Localized Kibana (Chinese)
No
Yes (Localization docs)
Elastic Maps
No
Yes (Maps docs)
Elasticsearch SQL Support
No
Yes (SQL docs)
Data Rollups (API & UI)
No
Yes (Rollup docs)
Centralized management for Beats & Logstash
No
Yes (Logstash docs)
Elastic APM with Distributed Tracing
No
Yes (APM docs)
Elastic Uptime
No
Yes (Uptime docs)
Frozen Indices
No
Yes (Frozen indices docs)
Security
Only perimeter-level security and standard IAM policies

Transport encryption
Authentication
Role-based access control
Attribute-based access control
Field- and document-level security
Encryption at rest

Alerting
Need to build and manage your own system to create alerting workflows. This depends on Amazon Cloudwatch, which comes with predefined, simple metrics. If you want something more sophisticated or related to your data, you'll need to build custom metrics and alerts.

Allows you to create scheduled queries, conditions, and actions on your data in Elasticsearch.
UI to create, manage, and take actions on alerts.

Machine Learning
Need to build and manage your own models created using additional AWS services or third-party services.

Fully integrated and specifically designed for Elasticsearch and Kibana.

Unsupervised, automated anomaly detection
On-demand forecasting
API-driven with easy-to-use UI for selecting data features

Monitoring
Depends on Amazon Cloudwatch, that covers a few metrics including cluster state, node information, etc.

Feature-rich and complete monitoring product specifically designed for Elasticsearch and Kibana.

Captures a wider range of metrics including search/index rate and latency, garbage collection count and duration, thread pool bulk rejection/queue, Lucene memory breakdown, and more with 10-second data granularity to ensure that clusters are running healthy.
Robust tools to diagnose, troubleshoot, and keep your cluster healthy including automatic alerts on cluster issues.

Graph
No
Yes (Graph docs)
Reporting
No
Yes (Reporting docs)
Custom Plugin Support
Not supported
Supported
Java Transport Client
Not supported
Supported
Operational Features
Some
All
Current Version
6.5
7.0
Dedicated VPC Support
Yes
Yes
Secure Peering Connection
Yes
Yes
Same Day Elastic Stack Version Release
No
Yes
In-Place Upgrades
Yes
Yes
Upgrade Assistant UI and APIs
No
Yes
Hot-Warm deployment template, with index curation
No
Yes
Default Snapshots
1 time per day
Configurable Policy
Defaults to 48 times per day
Every 30 minutes
Stored for 48 hours
_source only snapshot also available
Instant Rollout of Security Patches
No
Yes
Cross Zone Replication
Support for up to 3 availability zones
Support for up to 3 availability zones
Uptime SLA
No

Yes

99.95% cluster uptime in a given month as long as the cluster is deployed across 2 or more zones

Elastic Maps Service (geo-visualizations in Kibana)
Does not work out of the box
Yes
SOC 2 Compliance
No
Yes
Support
Some
All
Elastic Technical Support
No
Yes
SLA-Based Support
General level support, not specific to AWS Elasticsearch Service
Yes