Ingest all of your Confluence pages into Workplace Search.
The Confluence Server Connector requires that you connect Workplace Search with your Confluence Server instance.
Supports Confluence Server version: 6.15.6
For Confluence on the cloud, see Confluence Cloud..
Configuration
Workplace Search will provide a public Public Key and a place to input a Base URL:
Your Base URL is wherever Workplace Search can reach your Confluence Server instance, like the default http://localhost:8090.
The Public Key will be provided to Confluence Server for a secure connection between both applications. Copy it!
Head over to Confluence Server…​
We'll assume that you have Confluence up and running and that the default base URL is: http://localhost:8090/.
Login to Confluence Server as an administrator.
Click the Gear in the top right corner and then select General Configuration: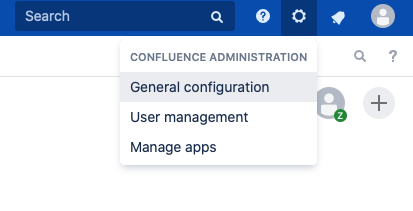 Figure 25. Connecting Confluence Server
Within the left sidebar menu, click on Application Links.
… It is far down the list, under Administration…
Enter the host address for Workplace Search.
By default, the address is: http://localhost:3002.
Click Create new link:

Figure 26. Connecting Confluence Server
It will fail… That's okay. Everybody fails sometimes.
Confirm the link, then proceed.
We admit: this next part will feel strange. But the end result will securely connect the two applications.
A modal appears and within it we'll need to enter some information: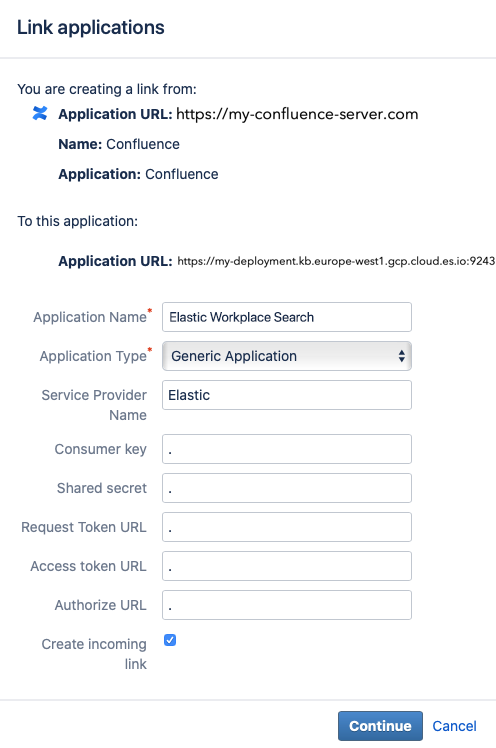 Figure 27. Connecting Confluence Server
Application Name: Elastic Workplace Search
Application Type: Generic Application
Service Provider Name: Elastic
Consumer key, Shared secret, Request Token URL, Access token URL, Authorize URL: Any random value. A . will do.
Create incoming link: Check this box.
Click Continue.
A final modal will appear: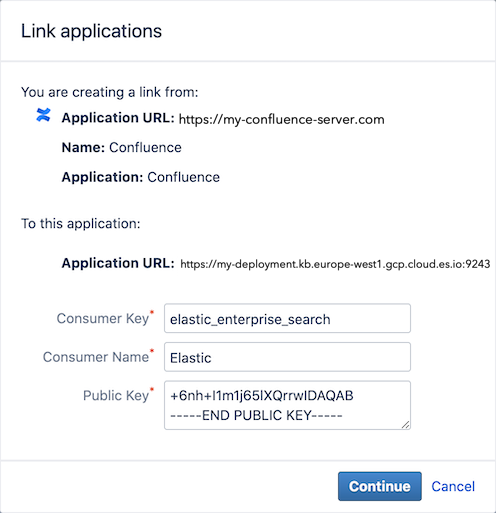 Figure 28. Connecting Confluence Server
Consumer Key: elastic_enterprise_search
Consumer Name: Elastic
Public Key: Your Public Key from Workplace Search.
Click Continue.
A successful affirmation appears…
Now, over to Workplace Search for the finishing touches.
Congratulations! It's time to search.
You can now make the source available to various groups and scale its relevance priority.