The new Elastic Cloud home page is here. Meet your new one-stop gateway to hosted and managed Elasticsearch: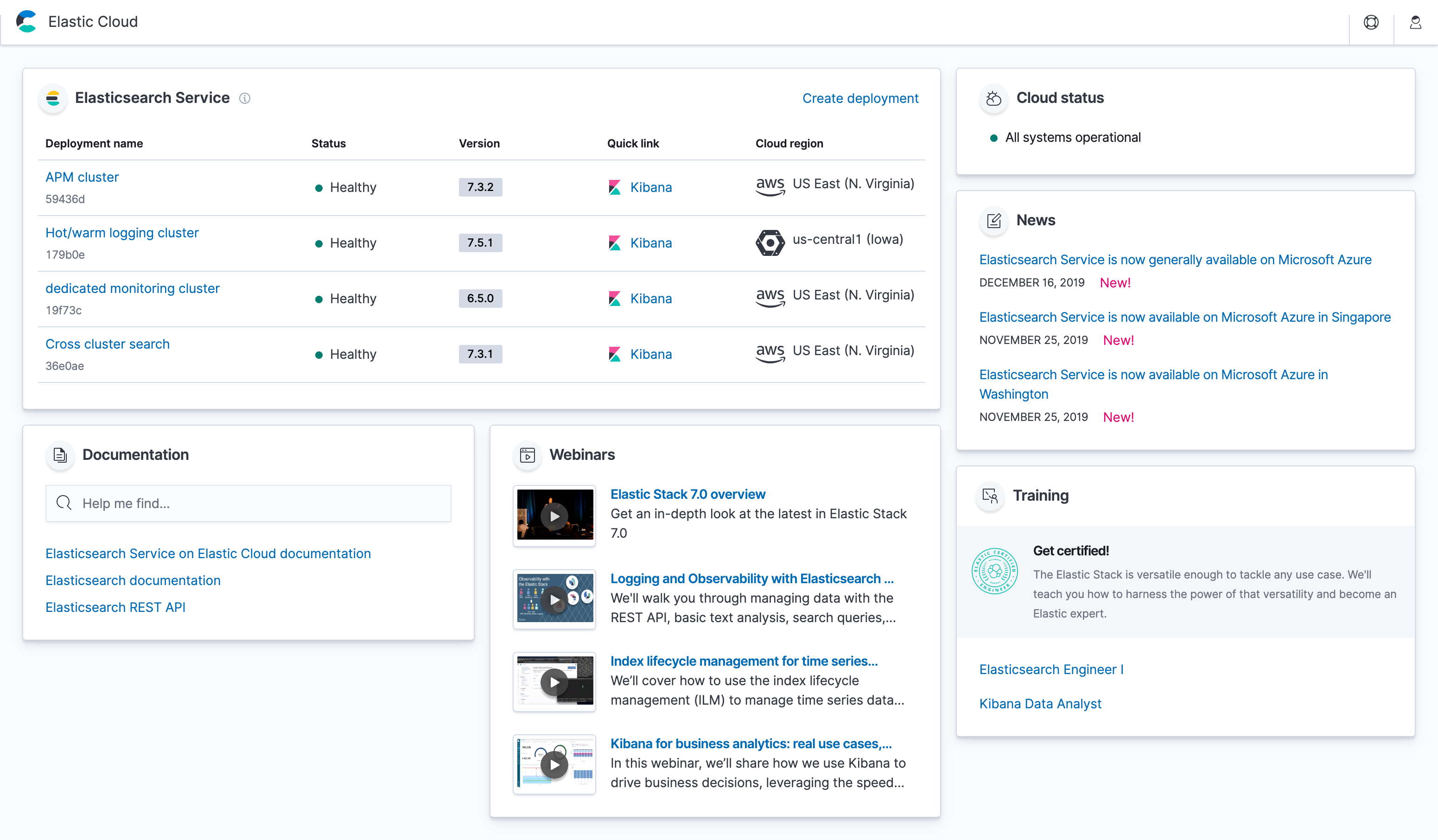 The Elastic Cloud home page provides access to:
At-a-glance health checks for Elasticsearch Service - Monitor your deployments, know the status of Elastic Cloud, and get notified of any scheduled maintenance.
Explore Elastic content - Quick access to documentation, tutorials, and new product updates.
Get training, get certified - Whether you're just getting started or expanding to another use case, Elastic Training can help you get the most out of Elasticsearch.
Over time, you'll be able to access Support, other Elastic solutions, and more services.
What's changed with the new home pageedit
You should know that a few features have moved:
We separated your profile from your contacts:

Your account password and MFA are now under the account Settings of the console.
Operational, billing, and monitoring contacts are still under the Account menu, but listed as Contacts instead.

The Elasticsearch Service card can get you to the Deployments page, directly to the Kibana log in, or you can create a deployment.
Help is now available from the life preserver icon, because if you call for help we'll be your lifeline!
Azure general availabilityedit
Elasticsearch Service on Microsoft Azure is now generally available! With the close of our public beta, we invite you to deploy production and non-production workloads to take advantage of all that Elasticsearch Service has to offer, including Elastic App Search, Elastic APM, Elastic SIEM, and more.
To learn more, check our blog post.
Other improvementsedit
We've made it easier to use our hosted offering in other ways, too:
Available nodes have increased from 16 to 32. When you max out the size of your instance, you can now add up to 32 nodes to your cluster.
UI performance improved. By making fewer server requests to fetch data, we've improved your UI experience when working with deployments. For example, the Create Deployment page now loads progressively without reloads whenever you change the platform, region, deployment version, or template.
New index alerts. Right on the Deployments page, there's a health indicator that shows a warning if there is a problem with an index.
Better configuration fallback. When making configuration changes, if they cannot be completed, we made it easier to switch back to a known-good configuration.
Disk usage estimate replaced with actual disk usage. This improvement originally came out with Elastic Cloud Enterprise in version 2.3.0 and is now available in Elasticsearch Service. The disk usage for Elasticsearch nodes are now based on the actual disk usage rather an estimate based on shard sizes. This ensures that all files are accounted for - including closed indices, broken shards, and transaction log files.
Service release: December 18, 2019 (Milestone 31)