Even before COVID-19 forced nearly everyone to grapple with virtual work, most organizations had mountains of content scattered across numerous teams and dozens, if not hundreds, of apps. But now new research shows the cost of poor employee experiences for organizations: productivity, confidence, and opportunity.
While blended work environments are likely here to stay, 58% of 1,000 US-based knowledge workers surveyed by Wakefield Research on behalf of Elastic say searching for documents is a top work-from-home problem. Moreover, 81% say they have a hard time finding documents when a boss or client has put them in the hot seat. As employers forge new paths for growth in the post-pandemic era, and demand for a distributed work model persists, business leaders must better empower workers to answer one of the most common questions today: Can you find that file for me?
[Is your organization ready for unified workplace search?]
The productivity cost
It's hardly surprising that time wasted searching for documents and files is a major drain on employees' productivity: 54% of respondents said that they spend more time digging for documents than replying to email. In primarily remote workplaces, that number jumps to 60%. That's time and energy that workers feel would be better spent improving company processes, organizing their workspace for better productivity, or preparing for meetings.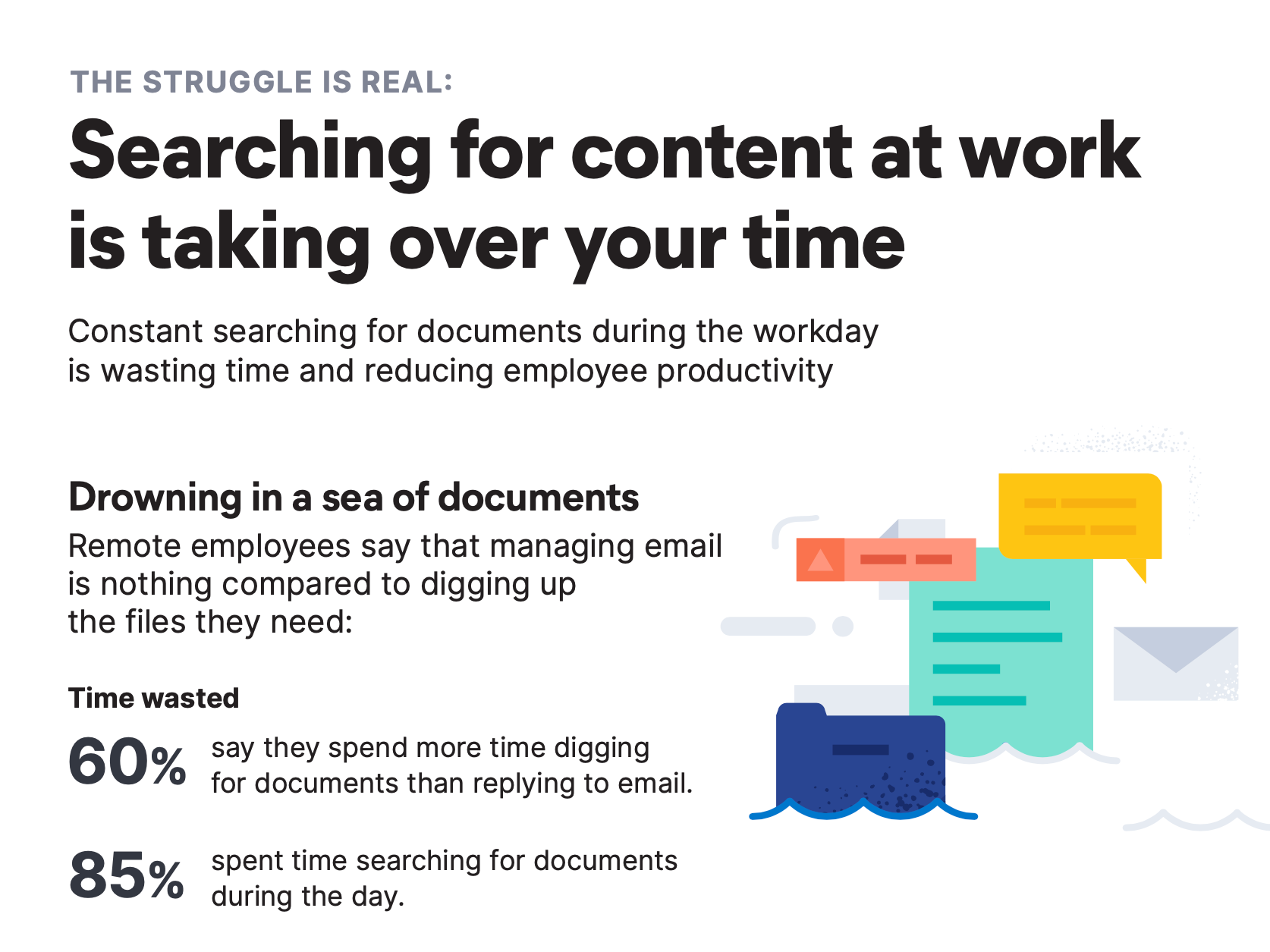 Check out the infographic to learn more about how constant searching for documents during the workday is wasting time and reducing employee productivity.
The confidence cost
When employees can't find the information they need when they need it, the impact goes deeper than lost time and reduced productivity — it starts to affect employees' ability to put their best foot forward at work. More than 80% of professionals surveyed said that they've encountered a situation where they had trouble finding a file or document that they needed to protect themselves from criticism or other negative repercussions with a boss or a client. For 31%, this happens frequently. Without effective workplace search, employees lack the confidence they need to navigate tense work situations and make the right impression when it matters most.
The opportunity cost
Perhaps the most significant loss related to poor search experience is that of future opportunity. Nearly one in three of the professionals surveyed said that they would devote more time to expanding their professional skillset if they could spend less time searching for files and documents. Twenty-six percent said that they'd want to establish better relationships with clients and co-workers. It's clear that the inability to find information quickly isn't just stealing employees' time, productivity, and confidence — it's quite literally stealing their opportunities to grow in their careers.
Unified workplace search is the solution
So, as the shift to virtual work continues to accelerate, how can organizations empower their teams to find the content they need? It's a widely recognized problem — 58% of the professionals surveyed think content findability is one of the top three problems to solve to support remote work, and 41% of managers see it as problem number one.
The solution is search. Search empowers teams with the content they need, when they need it, reducing frustration, minimizing wasteful content duplication, and propelling productivity. And with unified workplace search, teams can create a one-stop answer shop that allows them to stop digging and get back to the work that's meaningful to them.
Learn more about improving digital experiences
for your customers and employees.